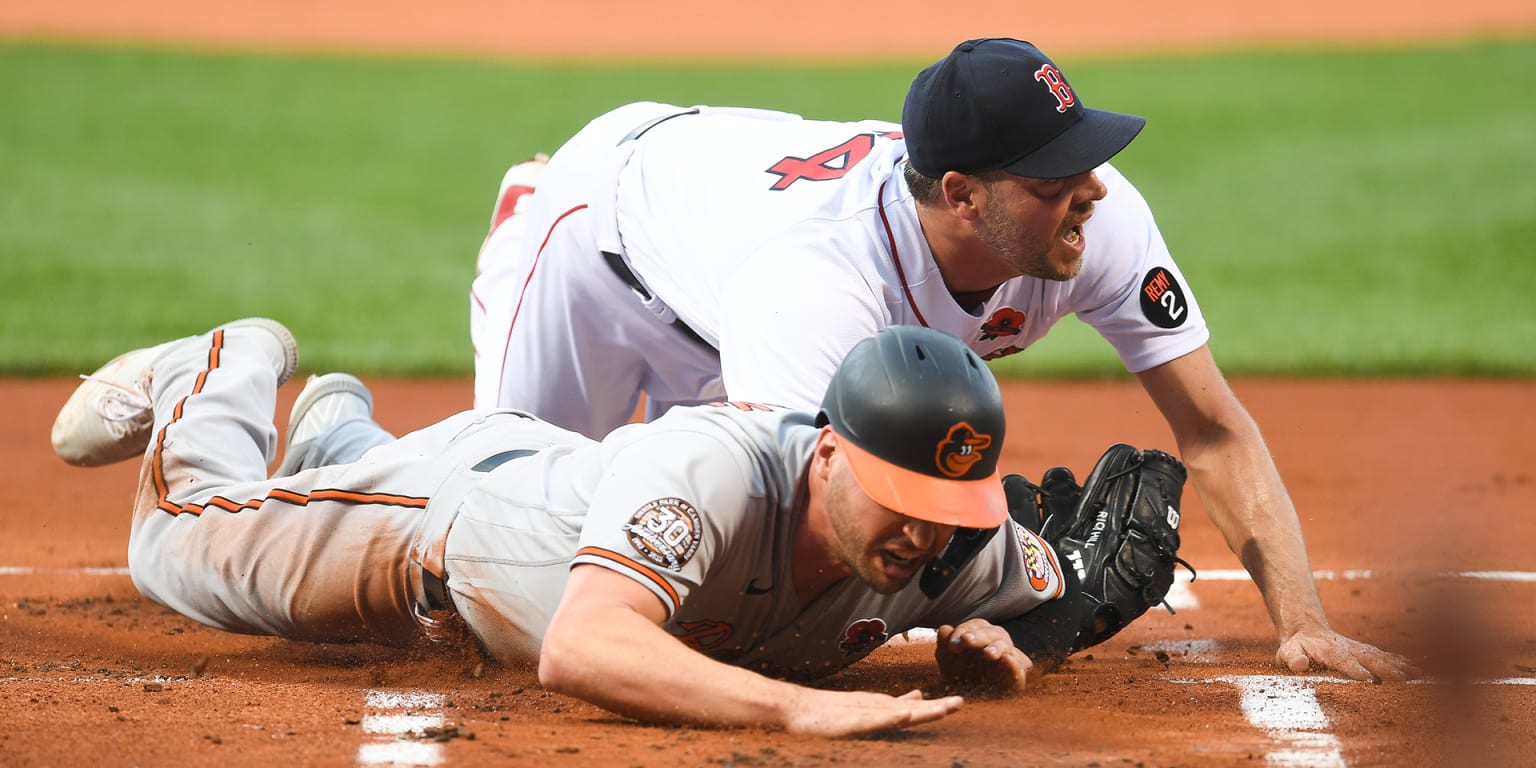 Rich Hill tags Trey Mancini on home plate
BOSTON — Though it was a forgettable pitching performance for Rich Hill Monday night at Fenway Park, the 42-year-old leftist made a field game to remember early in the Red Sox's 10-0 loss to the Orioles should remember.
When Hill's 2-1 fastball veered too far in the top of the first inning and sailed past catcher Christian Vázquez to the backstop, it seemed like a safe run for the Orioles.
Trey Mancini, who had just tripled, broke down third base for a foot race with Hill. It would have been Baltimore's second run of the game had it not been for a quick save by Vázquez and Hill's dive mark on the sliding Mancini's left arm.
But Hill essentially forced himself to go out after making the day, giving the Red Sox their only true highlight in the disappointing rubber match of a five-game series.
"That's how he goes about spring training in PFPs," said Red Sox manager Alex Cora. "He gives you everything. There are certain days when he's going to excel on the mound and go six, seven innings. And days like today will happen, but the effort is always there — cover first, cover the plate, he competes. It was a great game."
From his seat in the NESN booth, Hall of Famer pitcher Dennis Eckersley was impressed.
"What a piece by Rich Hill! I couldn't believe he caught that ball and jumped headfirst to home plate," Eckersley said. "At the age of 42 he gets the label himself. You don't see that every day. I don't think I've ever had to make a game like this in all the years I've played.
There were two other elements that made the unique game possible. The first was the ball taking a generous rebound from the backstop straight to Vázquez. The second was Vázquez doing a quick underhand flip that Hill was able to lock in in front of the right-handed batter's box as he slammed down the tag in one quick move.
"Throwing a ball that crooked was obviously a command issue. At the same time, it's just a reaction play to get there and cover home plate," Hill said. "That's what we work on in spring practice and we work on it a lot, even go to meetings and just make sure we cover home plate. Luckily I was able to make this game and save a run.
Hill's hustle and willingness to get dirty was another example of why Cora repeatedly refers to the veteran as the team leader.
"Well it's just a way of trying to do whatever it takes to do plays and get guys out there. That's goal #1. Especially in games where you don't have your best stuff," Hill said.
This is the second time in Hill's last three starts that he has been knocked over. In more than four innings, Hill (1-3, 4.85 ERA) gave up six runs in seven hits and two walks.
"I would say, of the 92 pitches, 40 fell out of my hands the way I wanted them to. That's a big indicator of what didn't go well," Hill said. "I say it all the time after a bad outing – I take responsibility for it. I didn't serve well and put us in a big hole at the beginning, so I'm very proud to be able to give us a chance to win, so it's something that's extremely frustrating.
"It's also another thing that you can overanalyze and try to do too much during the week, but I think I'm going to focus on that this week and get the ship in order to get back to what gets me as a pitcher good power speak. The way the ball came out of my hand tonight hasn't happened in a while so it's extremely frustrating. Work starts again tomorrow."