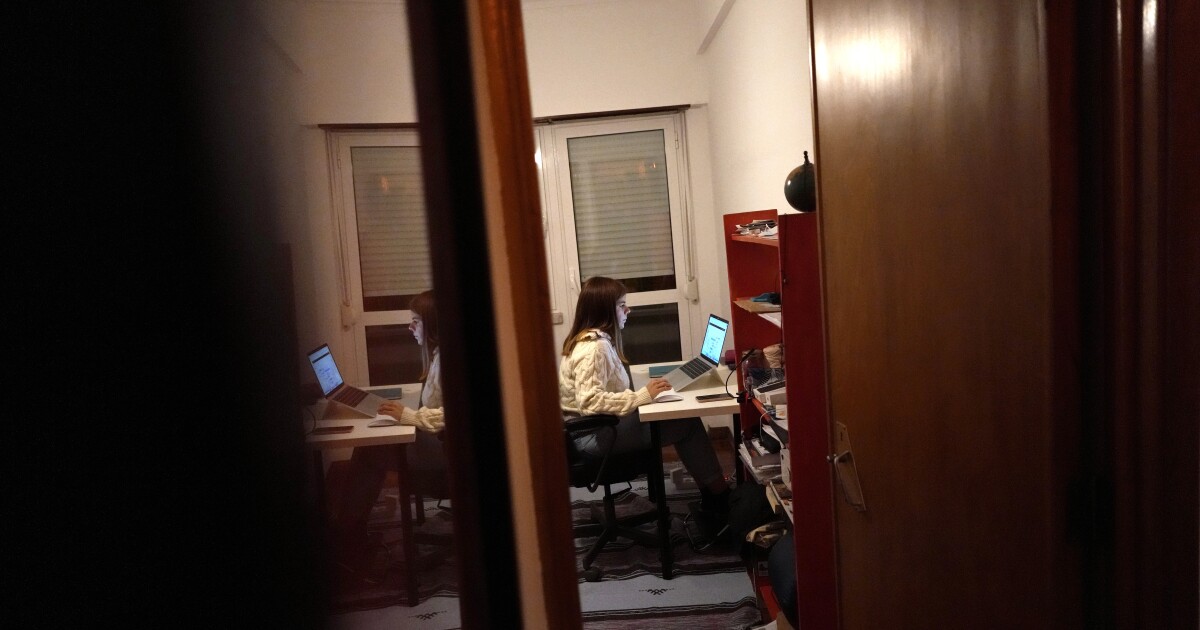 Workers paradise? Portugal's new telework law is stalling
LISBON –
Portugal's new homework law makes the country of the European Union sound like a workers paradise.
Companies cannot try to contact their employees outside of working hours. You need to help employees pay their gas, electricity, and internet bills at home. Bosses are prohibited from using digital software to track what their teleworkers are doing.
There is only one problem: the law may not work. Critics say the new rules are half-baked, poorly detailed and impracticable. And they can even backfire by making companies reluctant to be able to work from home at all.
"The law is badly written and does no justice to anyone," says José Pedro Anacoreta, labor lawyer at PLMJ, one of the largest law firms in Portugal. "It's not good for anyone. … It makes no sense."
In many places around the world, the COVID-19 pandemic has accelerated an earlier trend towards digitization of work and more flexible forms of work. In the midst of such a sudden and massive change in the employment landscape, governments are striving to incorporate work from home into their labor laws. Most of these efforts are still in their infancy.
Many Europeans have stopped going to the office regularly since March last year to contain the spread of COVID-19.
Unlike the United States, in Europe worker protection is widely viewed as a valued claim. For example, the dismissal of an employee can result in a substantial severance payment.
In the absence of a promised directive from the European Commission on how the transition to more extensive homeworking could be legally regulated, the legislative responses from governments have been patchy and fragmented.
During the pandemic, some countries recommended teleworking. Others – like Portugal – have asked for it. Most EU countries have specific laws on teleworking, albeit with different approaches, and others are considering this through amendments, extensions or conventions.
As home work has increased in recent years, the "workers' right to take a break" – which allows employees to ignore work matters outside of formal working hours – was introduced in countries like Germany, France, Italy, Spain and Belgium before the pandemic . It is becoming the standard now.
However, Portugal goes a step further by shifting responsibility on to businesses. "The employer is obliged not to contact the employee outside of working hours, except in cases of force majeure," says the new law.
Parents or carers with children up to the age of 8 also have the right to work from home if they wish, provided that the type of work they do is compatible with teleworking.
The fines for companies violating the law are nearly $ 11,200 for each violation.
The Portuguese rules are intended to address the downside of what has become known as the WFH.
The technology that enables working from home has also opened the door to abuses such as: B. long working days, as employees can be reached outside of their normal eight-hour shift. The consequences can be migration between work and private life and a feeling of isolation.
But the new law is met with skepticism by those it is supposed to protect.
37-year-old Andreia Sampaio, who works in communications in the Portuguese capital, Lisbon, agrees with the purpose of the law, but considers it too general and "very difficult" to enforce.
"We need to use common sense," she says, adding that she doesn't mind being contacted outside of business hours if it's an urgent matter. "We have to judge each case according to its merits."
And she assumes that the authorities will mostly only respond to complaints from employees – "but people will fear losing their jobs if they do."
Stimulated by the pandemic, but also to apply in the future regardless of COVID-related measures, the law could come into force as early as December 1st.
It is largely the brainchild of the center-left Socialist Party that has ruled Portugal since 2015. Before the elections for a new government on January 30th, she wants to revamp her progressive credentials and hoist a banner for workers' rights.
Still, there are many practical questions: Do employees need to be removed from the company's email lists at the end of their shift and reinstalled when they return to work? What about Europeans who work in the financial markets and need to know what is going on in, for example, Hong Kong and have colleagues who work in different time zones?
What if an industrial machine that cannot be stopped requires the attention of an engineer who is inactive? Who is it who cannot "contact" the employee – the department head? The boss? What is "Contact" – a phone call, an SMS, an email?
"The devil is always in the details … but also in the implementation," says Jon Messenger, a specialist in working conditions at the International Labor Organization, a United Nations organization based in Geneva.
The Portuguese Business Association, the largest business group in the country, was not involved in the drafting of the new law and considers it to be incomplete.
Teleworking rules need to be flexible, tailored to each sector and negotiated between employers and employees, says Luís Henrique of the association's legal department.
"We treat completely different situations as if they were all the same. That's not realistic, "said Henrique. "[The law] cannot be one size. "
Monitoring and enforcing the new rules can also be a challenge in one of the economically poorest countries in the EU. How long does it take in Portugal, notorious for bureaucracy and slow judiciary and poorly resourced public services, how long does it take for a complaint to penetrate the system and achieve a result?
Across Europe, labor inspectorates have "plummeted" over the past decade, according to data from the Brussels-based European Trade Union Confederation, which has 45 million members in 39 European countries.
The country with the sharpest drop in inspections since 2010? Portugal, with 55% fewer controls by 2018.
"Ambitious, progressive laws … are touching the reality that there are still no ways to monitor them," said Henrique of the Portuguese Business Association.